We introduce to you our custom TV Road Case Clamshell Style for single 82" TV with fixed end divider for Suwito. The clamshell case also known as split lid design is very convenient because the two lids can simply open up exposing the content inside. This facilitates easy handling, especially when loading and unloading the television.
We used high-quality materials to design this custom TV road case. It is constructed with 12mm laminated plywood with black PVC finish. The interior is secured with 10mm foam lining to protect the unit from unexpected scratch, dents, or breakage.
This custom TV road case comes with a lift off lid design to gain easy access to the unit. We have installed 8x ball corners and 8x brace for mobility and structure. There is 1X handle on the left and right side of the lid so it can easily be pulled towards the desired direction.
A total of 4 handles are also installed on the base, 2X on the left and 2X on the right for you to grip while moving the case.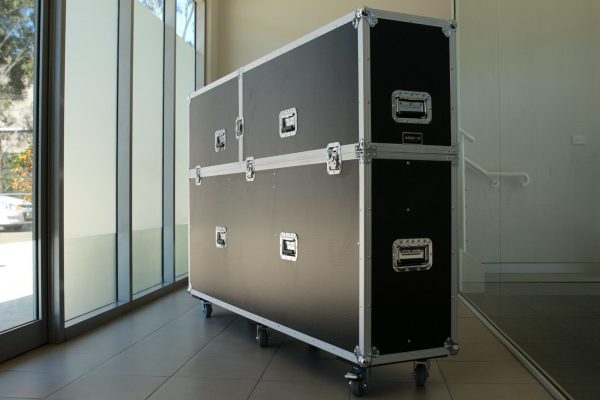 We have also attached 2X large latches on the front and rear of the road case, 4 in total. There are 4x 1000mm castors and wheels secured together by aluminum extrusions.
We make sure our road cases are high-quality. We used standard materials and polished every product for perfection.
While we recommend PennElcom for the hardware, you can specify your choice of hardware to us and we will design a custom TV road case according to your specifications. Also, the interior of each road case can be customized to fit any application including shelves or foam, or a combination of both.
Feel free to contact us if you need a custom TV road case to secure your equipment as you transport them from one location to another. We will ship the exact case you need made just for you.