We introduce to you our custom drawer case for Sydney catering.  We have used high-quality materials to build this drawer case. This drawer case is made from 12mm Plywood with Black PVC finish for a corporate look. It comes with a removable front lid with retractable legs.
The removable front lid of this drawer case converts into a side mount table to use as flat base for mixers, controller, and other equipment. The table stands 28.75 inches from the ground and has a weight capacity of 200lbs evenly distributed. The retractable legs can withdraw or collapse as you please.
The functional design makes this drawer case ideal for sound and electrical systems. It comes with 4x 4RU drawers with 10mm EVA internal lining that protects the equipment from cracks and damages while in transit.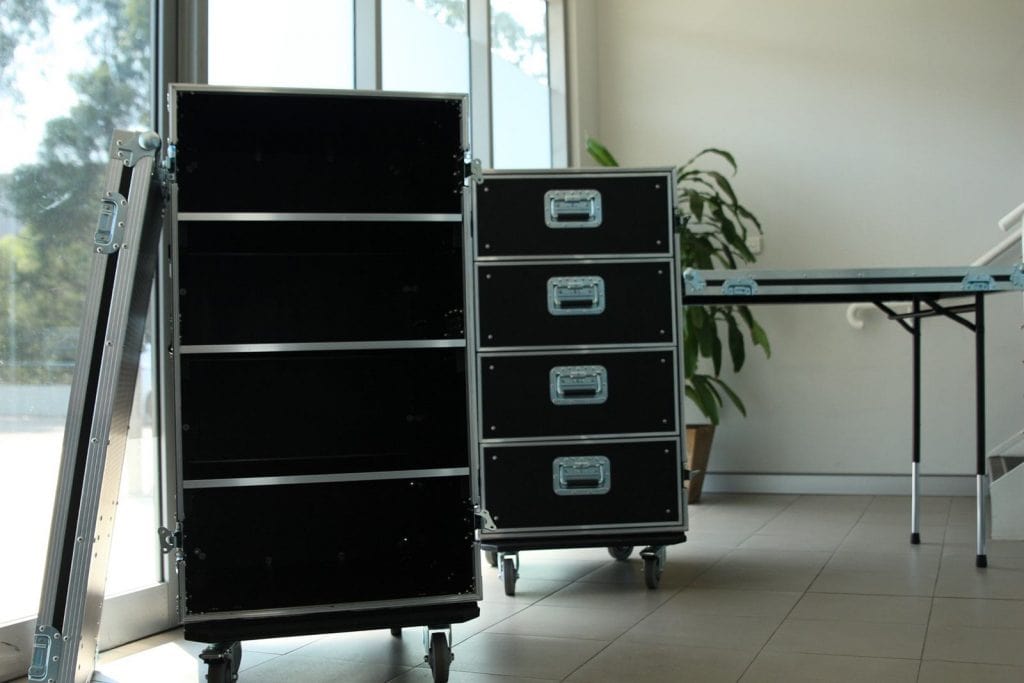 There are a total of 4 Carjet castors, 2 with locks to stabilize the road case while on standby. We used Heavy Duty Steel Ball corners structured with aluminum extrusions for durability.
Carjet castors provide really good grip, amazing traction, and a soft traction over a rough terrain. They are also ultra quiet, durable, and lightweight.
This custom drawer case is high-quality and very durable. We can also build custom drawer case with 3RU and 2RU rack drawers. Moreover, while we use Penn Elcom to build our custom drawer case, you can specify your choice of hardware and we will ensure that you will receive the a high-quality drawer case according to your customization request.
Here are Armor Cases, we specialise in protection solutions and offer a wide range of options for all drawer cases. Looking to ensure your electrical and sound equipment is safe and secure?
Feel free to contact us if you need a custom drawer case to secure your equipment as you transport them from one location to another. We will ship the exact case you need made just for you.