Our client, Super K Group is a business that provides audio visual and data communication services. They came to us with the need for a Twin 75″ TV Road Case. Our team of experts were able to effectively implement a new user friendly design that meets the customer's needs, and includes two storage compartments.
Optimised Movement and Practical Exterior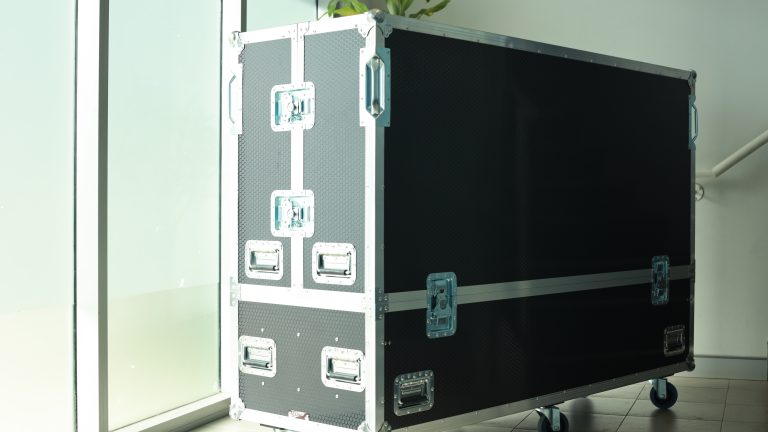 This case comes with durable swivel castors which makes it transportable as the case can be pushed and pulled. These castors includes brakes meaning when the case is required to remain firmly in place it is able to do so. The panels for the case is 12MM thick plywood and that makes the case extremely durable for storing large TV screens. A black glossy honeycomb texture is added to the exterior to ensure it has an aesthetically pleasing profile.
On the split lid design, there are four edge handles on each corner edges of the case and one medium recessed handle on each sides of the lid. This allows the user to remove the split lid without much effort and they assist with moving the case. Large butterfly latches are used to stably lock the split lids to the lower base tightly. 
Spilt Lid Feature and Storage Compartment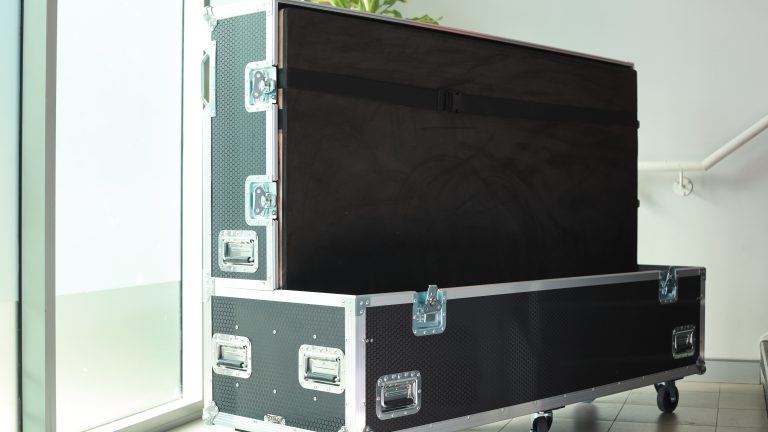 The case is built to have split lids making it user friendly. The user can open and close the lid much more easily compared to a single lid. This provides more space to remove the TV from the case. The design includes a divider that separates two of the TV screens.  The screens can be locked to the divider panel by a lock strap.
Closer to the front and back interior panels, there are two storage compartments for storing cables and other accessories. They have a hinged lid that can be opened and closed using a push lock.