Our client, Eneti is a Multimedia Artist in Melbourne and he came to us with the requirement of a road case to hold his Wurlitzer Student Edition Portable keyboard. He requested us to customised the case to fit the keyboard's dimensions and include a storage compartment to store four steel legs and a pedal board. Our team were able to effectively design an appropriate solution that meets the client's needs.
Practical Exterior and Optimised Transportation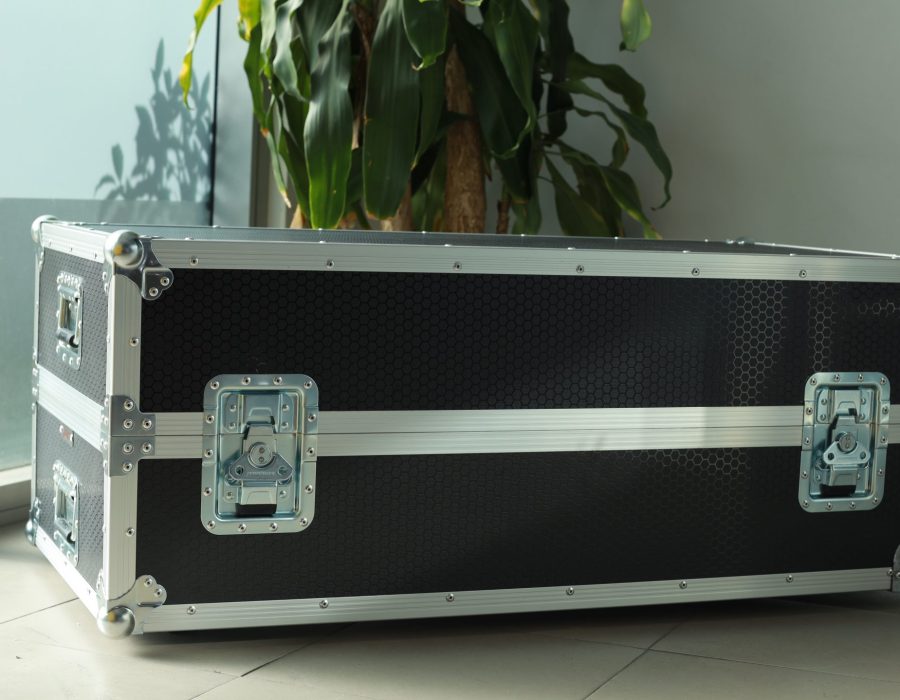 The strong 9MM panel case ensure it can withstand the loads it is put under. A black honeycomb glossy texture is added to the exterior to ensure it has an aesthetically pleasing profile. 
This case also comes with durable 75MM corner castors which makes transportation much easier.  Two recessed handles are attached to each end of the case. The handles on the lid allows it to be removed easily. The handles on the sides of base ensure the case can be carried in practical and safe manner. The handle opposite the corner castors can be used to pull the case like a suitcase. Large latches are included to keep the case securely locked and stable.  
Ease of Use and Storage Interior
This case is internally equipped with strong and durable EVA foam lining and layers to ensure the keyboard and its accessories placed inside the case are protected during transport.
In the base, there is a plastic panel trap door that has two storage slots underneath. The longer slot is used for storing the steel legs and the smaller one is for the pedal board and power cable. The top carpet layer on the base allows the lid to lock and close using Velcro.