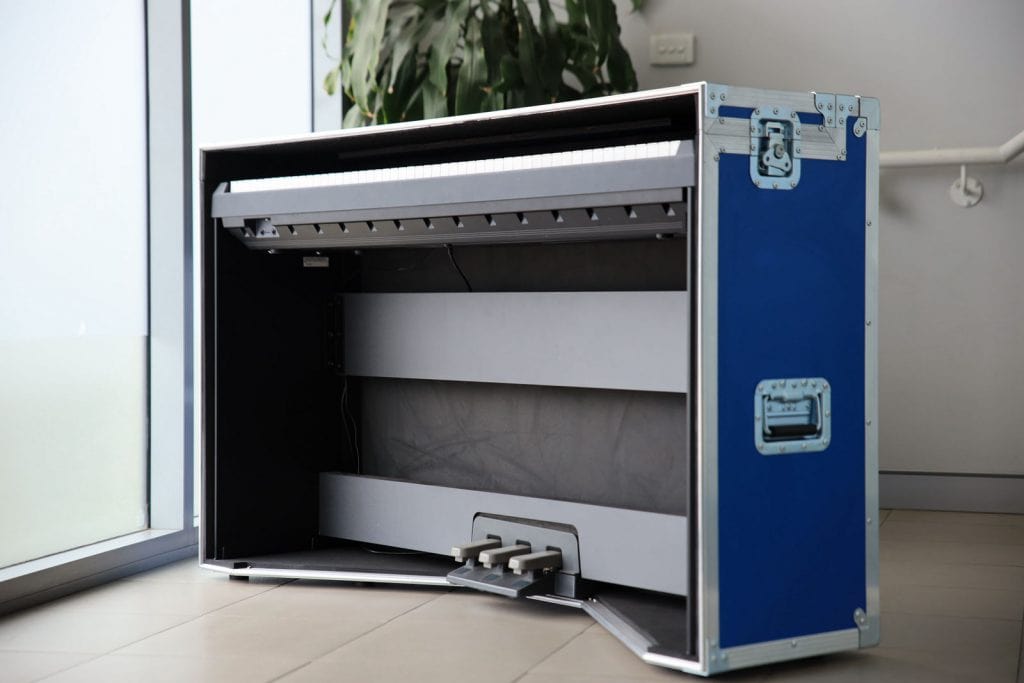 A custom Case/Stand for Yamaha P115 Keyboard
A custom Case/Stand case for Yamaha P115 Keyboard for our client 
Custom Case/Stand for Yamaha P115 Keyboard
A fully customized case for Yamaha P115 Keyboard has been built by Armor Road Cases. The custom Keyboard case, which also works as a stand for the P1115 Keyboard, has been designed with a blue finish. We have used excellent quality plywood to ensure its body stays compact and robust. Aluminium extrusions have been used on the sides of the custom Keyboard case for it to be sturdy.
One of the features of the custom case for the Keyboard is its Stop-anywhere lid. The lid has a music sheet holder on the inside panel which holds the music sheet firmly. This lid can be adjusted by the user at an angle best suited for his view. Also, the custom Keyboard flight case features a recessed handle on its sides. This enables the handler to easily move the case without much effort.
The interior of the custom case/stand for Yamaha P1115 Keyboard is also beautifully designed. Featuring a live in-design mimicking a full-size piano with a music sheet holder inside the lid, this Yamaha keyboard case stands out unique. These features allow the performer to use his keyboard comfortably without removing it from the case.
We have integrated an internal foam linen into the custom case/stand for Yamaha P1115 Keyboard. An exterior latch has been put to hold the lid in place.