RF40 Shock Mounted Suspended Rack Case was designed for sophisticated and expensive rack units which are required to protect against vibrations during transport for longevity of hardware and high quality performance.
Armor Suspended Rack Cases comes with space of 40RU on one side and optional space of of same capacity on the other side as well which can be populated based on requirements. Refer to Product 2D Drawing for more details over internal usable space.
Some of the highlighted features are mentioned below,
Unique Removable lids design which allows user to open the Front and Rear doors for easy access to Rack Units. They prove convenient for Installation and cable management for units.
Medium sized deep recessed handle allow user to handle the case with ease during transportation.
Thick EVA foam based Suspension System from ARMOR is installed which allows the Rack System suspended in the air with the help of EVA38 Pillows Pads. They are helpful in vibration absorption.
The galvanized Angle Brackets enhance the overall stability and rigidity of Road Case.
Label dish for customer use for recognition of its stock and event management is really resourceful.
This Shock Mounted Rack Case comes with 3inch-braked and swivel castors providing sufficient height from ground while having enough traction for stability while handling and transporting the case.
We put a lot of efforts in our case designs as well as built quality and workmanship. We design our cases to be long lasting, easy to use and appreciated by our customers. 
We always appreciate comments and suggestions from our customers. We put them on priority for future updates and make them part of our continuous improvement program. 
We process all ideas and improvements shared by our clients through a systemized channel which eliminates the chances of error and enhance the quality of our product. 
The extensive quality testing procedures at each step of the life of case enable us to maintain the quality and functionality of product. 
This Shock Proof Road Case for Rack Units features: 
Penn Elcom hardware
ARMOR P1201 12MM Laminated Panels with Glossy Black Honeycomb Finish and Black ABS Interior
Brand and Model Engraving
Label Dish
Castor Dishes for Stacking
Removable Lids Doors
3 inch Braked Castor Wheels
Applications of Suspended Rack Case
ARMOR RF40 Shock Mounted Suspended Rack Case stand out from the crowed due to to its unique features. It has ability to store the 40RU Rack Space on the front side of case and equivalent space on the rear side of case.
Both side have removable doors protected by latches which makes it for user to use it with ease. The Rack Units in  this vibration proof rack road case are mounted on EVA38 Foam Padding based shock absorption system by ARMOR Cases which protects the Rack Units from vibrations due to operational activities and jerks during transportation.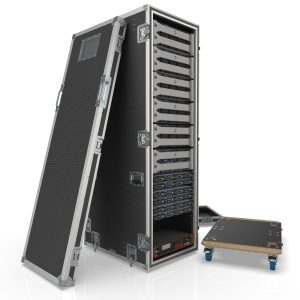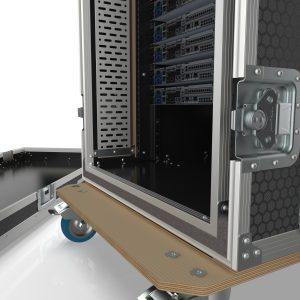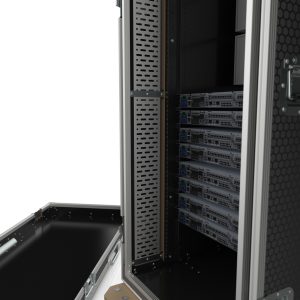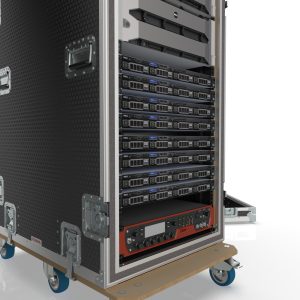 A long lasting business means it can withstand the test of time to win customer recognition, maintain a health relationship with our customers and stay ahead of competition. Starting from a humble beginning in 2016, Armor is determined to be around when its founding team members are long gone. The culture of ownership, quest for solution and improvements, openness must be in every team member's DNA
Armor started as a supplier of road cases for the live event industry back in 2016. We have since evolved into a transport solution provider for many other industries and sectors. 
The cases we produce are only as good as the team that are working on them. To have high standard on our cases, we must have extra-ordinary team players.