Guitars are commonly used musical instruments which are available in various varieties based on brand, sizes and  operational purposes. Transportation of these musical instrument has been a great challenge for artist and musicians. There running and delicate strings are critical for the performance of Guitars.
ARMOR has came up with unique design of GT8 Guitar Road Case for the need of transportation of these musical instruments. There are several unique features about GT8 which are mentioned below,
The Slam Lid Design makes it easy for end user to open the front lid of the Guitar road Case single handed.
The Lid is removable and hence can be stored separately to save the space and avoid cluttering the work area.
The Built in LED Light Strip help to illuminate the case internally with the help of built in RGB LED Driver and other connection elements. It helps to save the setting up time for the user as he only have to plug it into the mains and control the RGB lights with the help of remote. 
The Four Inch Castors provide enough ground clearance to avoid nonuniform road conditions and obstacles. The Wheels are made out of PU which are durable and resistant to wear. it provides long service life with better functionality.
The Guitars are supported in the guitar road case with the help of EVA foam insert. The Foam insert is made based on the type, model and size of guitars which can be changed based on the requirement of end user. For more information over customization of foam inserts for GT8 guitar transportation case, please contact us.
The Foam insert is also used near to the necks to make sure that head, strings and neck of guitars are safe from viberations. 
We put a lot of efforts in our case designs as well as built quality and workmanship. We design our cases to be long lasting, easy to use and appreciated by our customers. 
GT8 Transportation case comes with several elements which are highlighted below: 
Low base, edge customer board, smaller castor wheels for best stability
ARMOR P901 9mm laminated panels with glossy black honeycomb exterior as a standard and Matt Black as interior.  
Easy to use lift off lid design with medium recessed handles on each end
4inch PU wheel braked castors to enhance the mobility and ground clearance for easy transportation.
 RGB LED Light Strip with Its driver which is pre-installed inside the case.
GT8 Road Case Application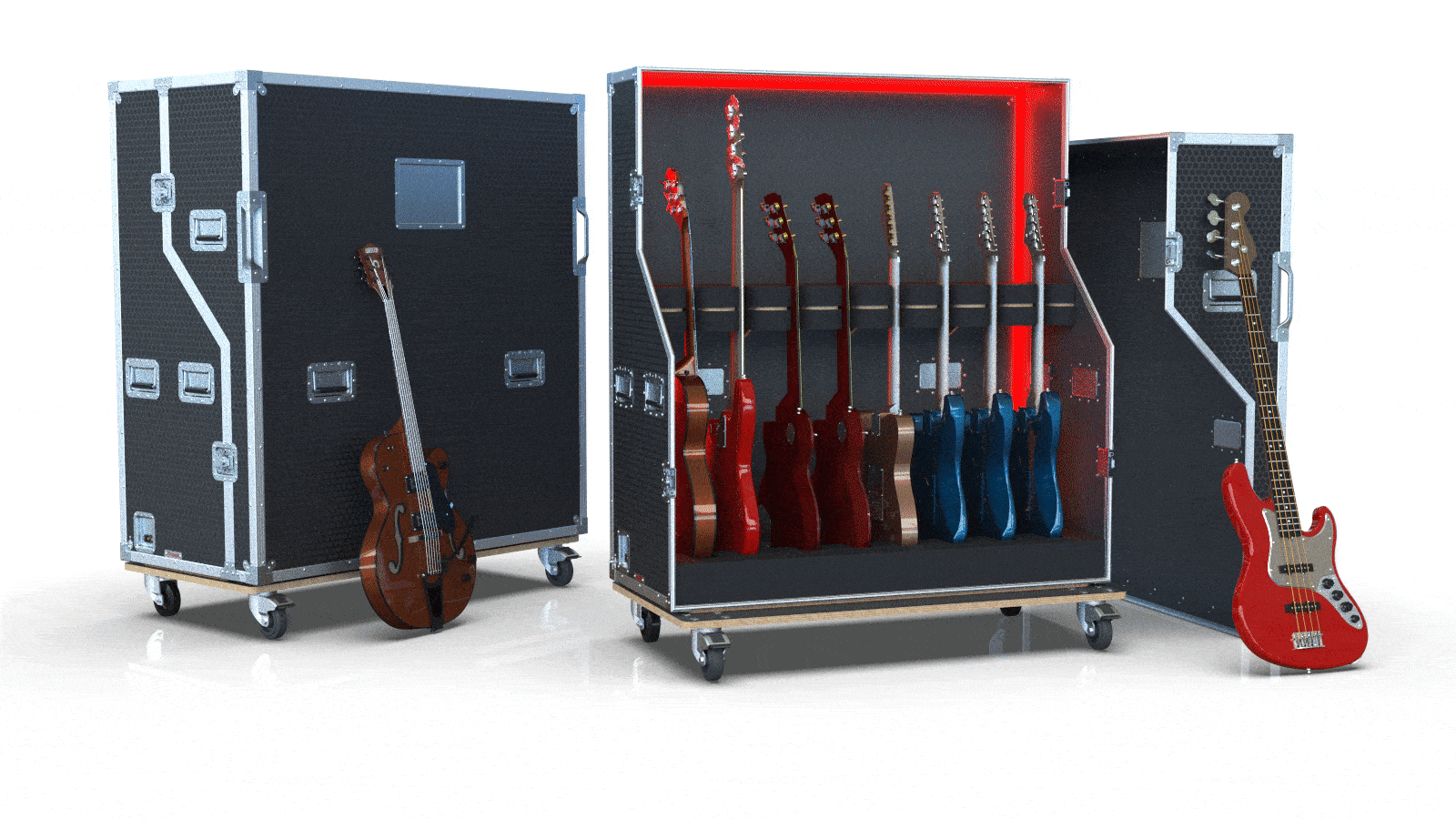 Customers who have first hand experience using various guitar amp cases have provided valuable feedback and we have always appreciated such communications and learned a lot from them. Many case design improvements were not possible without the input from them. 
In the New Road Case for Guitar which is named as GT8 solves various problems faced by our end users. The addition of RGB LED Strip covered with Diffuser, dedicated place for LED driver and IEC plug into the road case are some of the highlights.
Mainly the improved strength with low weight is helping users in transportation of these cases. the use of corner handles helps the user to remove the lid by single user. 
A long lasting business means it can withstand the test of time to win customer recognition, maintain a health relationship with our customers and stay ahead of competition. Starting from a humble beginning in 2016, Armor is determined to be around when its founding team members are long gone. The culture of ownership, quest for solution and improvements, openness must be in every team member's DNA
Armor started as a supplier of road cases for the live event industry back in 2016. We have since evolved into a transport solution provider for many other industries and sectors. 
The cases we produce are only as good as the team that are working on them. To have high standard on our cases, we must have extra-ordinary team players.