The Wiggles needs no introductions to Australians and they have been busy with tours all around the country. As you may already know they use quite a lot of costume and clothing for their shows and have recently asked Armor Road Cases to build 3 touring wardrobe road cases for this purpose.
After a brief discussion with their touring manager Luke, we produced a CAD drawing for this case with a clamshell design.  compared to a wardrobe case with a front open door, this design reduces the cost of the case without losing any internal space. It is also more user friendly as once the case is opened there is no extra doors taking up spaces around the road cases, allowing 3 wardrobes cases to be neatly placed next to each other and actors and crew can easily access any of the wardrobes without being obstructed by doors in between them.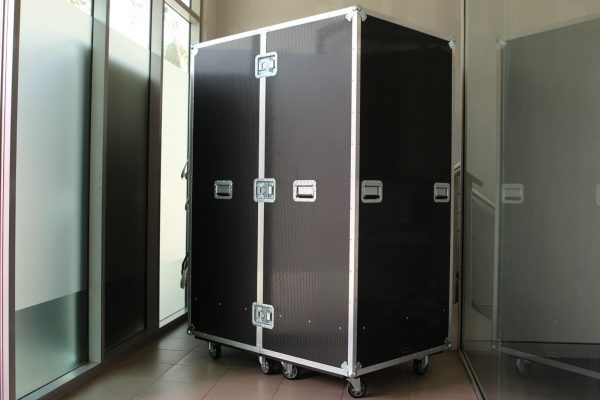 The wardrobe road cases each have two partitions with cloth hanger poles installed, some other storage shelves of different dimensions, as well as 2 of pull out drawers at the bottom for storage of smaller items.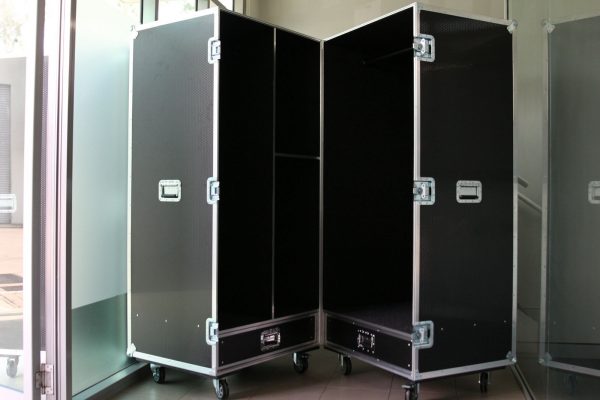 We understand how tough the conditions are on the road and we take quality seriously to ensure our road cases survive these conditions and sometimes brutal treatment by the road crew. These road cases are made of 12MM E1 grade premium plywood panels with glossy honeycomb pattern finish and are built with all Penn Elcom hardware.  We back our road cases with 5 years warranty. If you are a touring company and need a few wardrobe road cases designed and build here in Australia please do not hesitate to contact us.