This is a made to order road case for Hologic's medical equipment. Its interior dimensions are 710 x 910 x 845mm (W x D x H).
This case is made out of 9mm thick plywood laminated with a black finish and insulated with 5mm of EVA foam on the lid and 10mm on the trunk. For optimal robustness, a 18mm dense plywood segment has been added on the bottom of the case, plus aluminium extrusion and heavy-duty ball corners were applied on all sides and corners.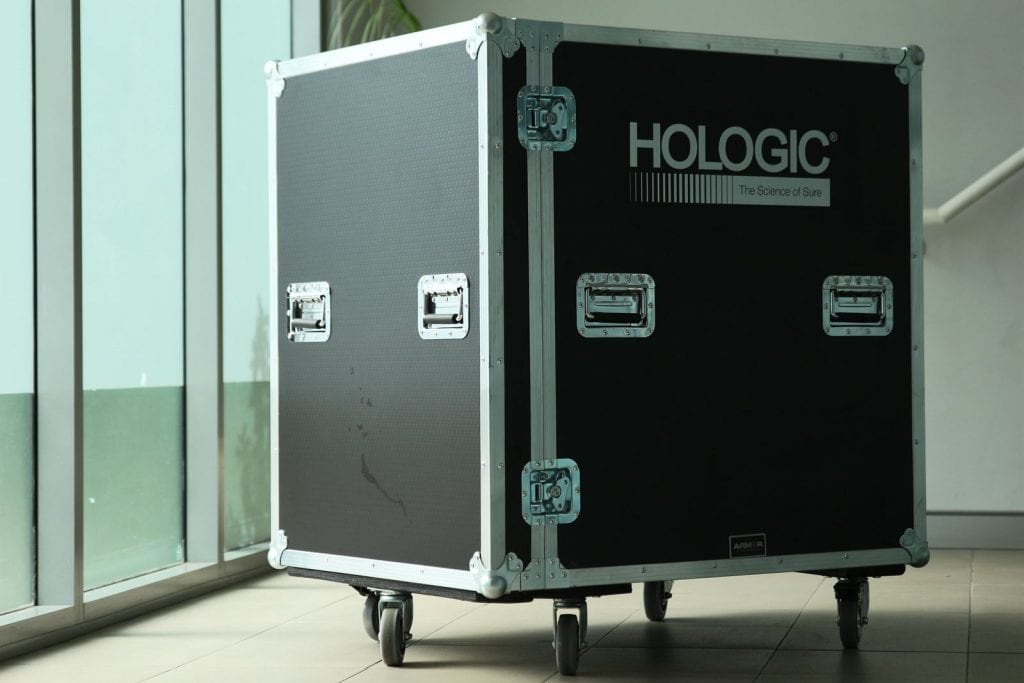 Also, on the bottom of the case 5x 4" recessed castors can be found for trouble-free movement, and 2x medium handles on two of the sides (4 in total). In addition, to implement the hinged lid design, 4x medium latches were used to connect the lid with the body of the case, 2 in the front and 2 in the rear.
This case uses a front-opening door design that's being supported from one of the castor wheels. Additionally, it comes with a built-in ramp for easy access to the product. The ramp is created with 18mm thick plywood, plus two 9mm side pieces, both of which were finished with carpet. On the outside of the case the company's logo can be found screen printed, so that the case stands out in a group of case, and also for branding purposes.